At Astounding Designs – we can build anything that our clients need, online, to represent their business. One way that we can do this is by creating Custom Business Landing Pages – to showcase either specific services or to display information about your business online, without the cost of a full Business Website Design service.
As an example, a landing page can be as simple as some information and a contact form, leading potential customers to a way to contact your business. Rhode Island Solar Panels is a good example of this. The landing pages that we've created for their business help showcase their services (in a simple way) and lead visitors to a contact form to schedule an appointment. (If you're looking for Solar Panel Installation in Rhode Island, send them a message ;-))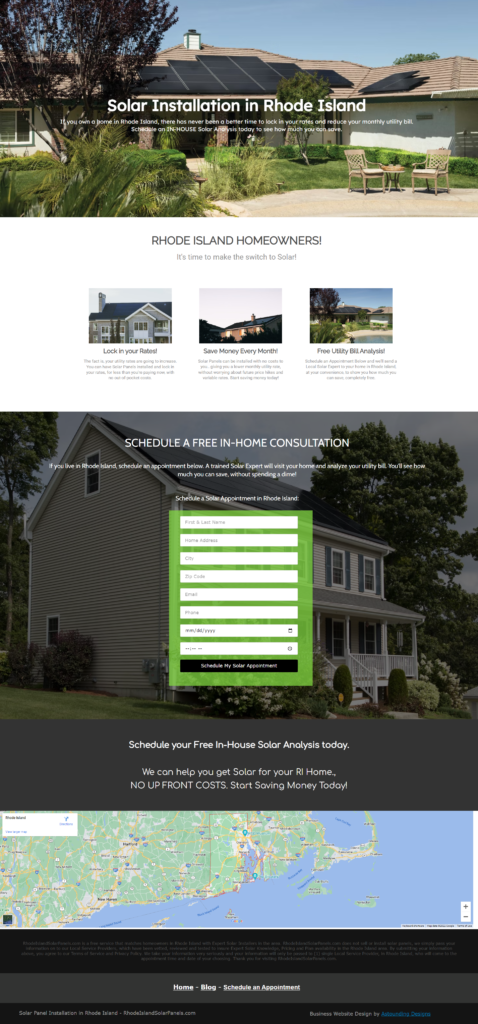 Our Custom Business Landing Pages are "drag-and-drop", meaning we (or you) can edit them as needed, without coding knowledge. We can create any design you can imagine and add any features or sections that you need. For more information, reach out to our Business Web Design Team and we'll get you a quote to create your Landing Page(s).
---
Tags:
astoundingdesigns
,
business landing page design
,
business web design company
,
business website design
,
solar panel installation in rhode island
,
solar panel installation ri
,
web design company
,
web design company atlanta
,
web design company providence
,
web design company ri
,
website design