Hey everyone, we are thrilled to announce the launch of our client LiquorWicks' newly redesigned website! LiquorWicks is the manufacturer of custom glass candles made from upcycled Beer, Wine and Liquor Bottle Candles. Crafting Liquor Bottle Candles candles for over a decade, their candles are hand-crafted using high-quality ingredients, and their new website makes it easier than ever to purchase your favorite candles.
Head over to www.LiquorWicks.com to see their fresh new look, improved navigation, and easy-to-use features. Their online store now has 50+ new features including a Wishlist, Store Locator, Custom Scent Options and much more. Plus, their commitment to sustainability and environmental responsibility is reflected in every aspect of their operations.
For anyone looking to order, use Coupon Code: MARCH23 for a special discount (valid through March 2023).
Support a small business and get some amazing, unique, candles for your home or as a gift.
If you own a business and you're looking for a new website or online store, email us through our website or message us through live chat to get started. We can build anything you can imagine and we're experts Business Website Design.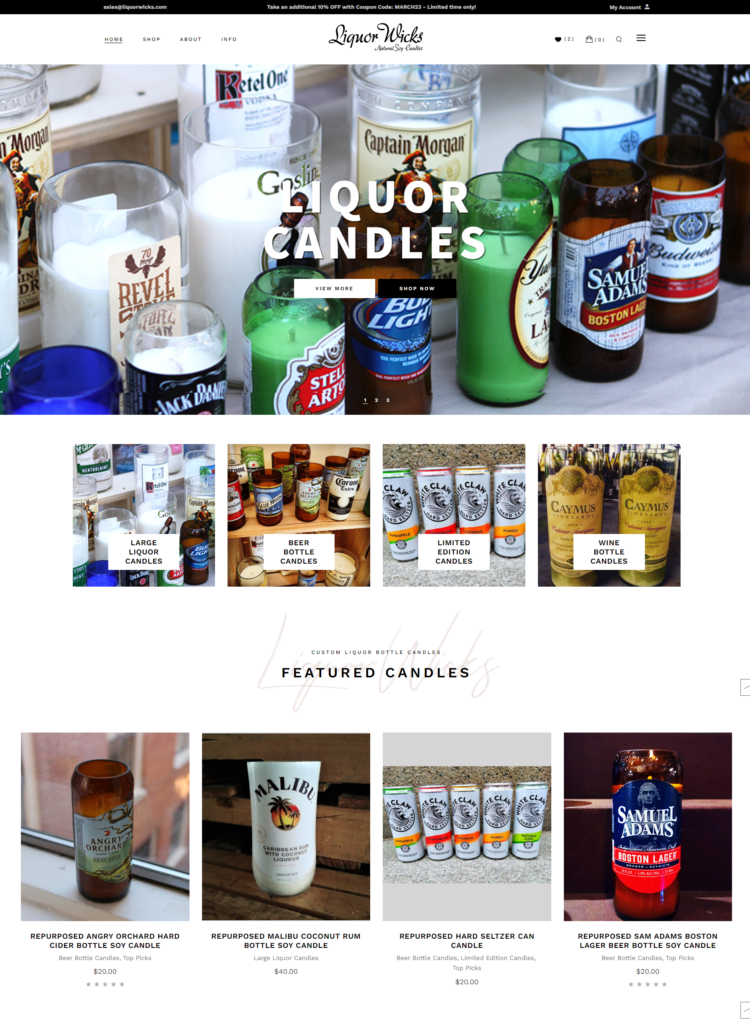 ---
Tags:
business website design
,
Coupon Code
,
custom glass candles
,
Custom Scent Options
,
easy-to-use features
,
environmental responsibility
,
expert web development
,
gift ideas
,
hand-crafted candles
,
high-quality candles
,
home decor
,
improved navigation
,
LiquorWicks
,
MARCH23
,
new website
,
online store
,
small business
,
special discount
,
Store Locator
,
sustainability
,
unique candles
,
upcycled beer bottles
,
upcycled liquor bottles
,
upcycled wine bottles
,
Wishlist