Have you ever been (or are you currently) stuck, trying to find a piece of code, within your WordPress Theme or Plugin and you just can't? You could have thousands of files that you're looking through, just to change a single piece of code.. or sometimes even a single word. Well, problem solved.
This is where the String Locator plugin comes in.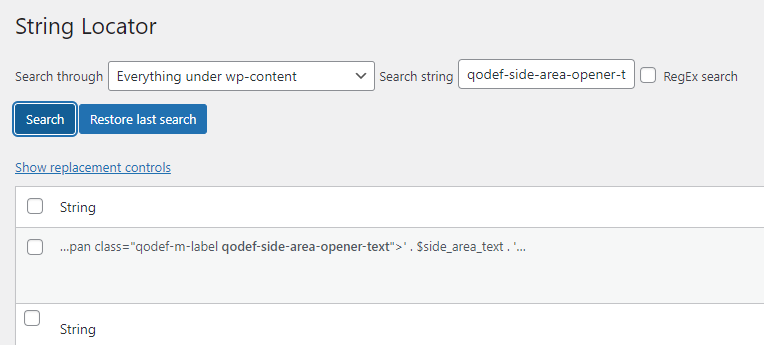 The String Locator plugin is a free and easy-to-use tool that allows you to quickly search for specific strings of code within your WordPress themes and plugins. This can be incredibly useful when you need to make changes to your website, but you're not sure where to find the code you need to edit.
To use the String Locator plugin, simply install it on your WordPress site and activate it. Once activated, you can access the plugin by going to the "Tools" menu in your WordPress dashboard. From there, you can enter the string of code you're looking for, and the plugin will search through all of your themes and plugins to find any instances of that code.
When the plugin finds a match, it will display the file name, line number, and a link to the file so you can easily open and edit it. You can also choose to search within a specific theme or plugin, or exclude certain themes or plugins from the search.
In addition to being incredibly useful for finding and editing specific code within your WordPress themes and plugins, the String Locator plugin can also be used to search for other types of files, such as images and documents.Tthe String Locator plugin is a must-have tool for any WordPress user looking to quickly and easily find and edit specific code within their themes and plugins.
If you need further WordPress help or our WordPress Repair Service, please feel free to reach out. We'll do our best to help resolve any issues or edit your site in any way that you need.
---
Tags:
astounding designs
,
astoundingdesigns
,
blog
,
Code
,
Dashboard
,
Documents
,
Edit
,
Exclude
,
File
,
Free
,
images
,
Line Number
,
Match
,
plugins
,
Search
,
String Locator Plugin
,
Theme
,
Themes
,
Tool
,
website
,
wordpress
,
wordpress repair