Astounding Designs offers Automated SEO Plans, Business Website Design, Link Building Services, Business Logo Design, Blogger Outreach Services and more. Since the majority of our clients combine more than one of our services, we've built the Astounding Designs Client Portal.
When you sign up for a plan, you will receive a login and password to access your Client Portal.
This will bring you to a screen that looks like this: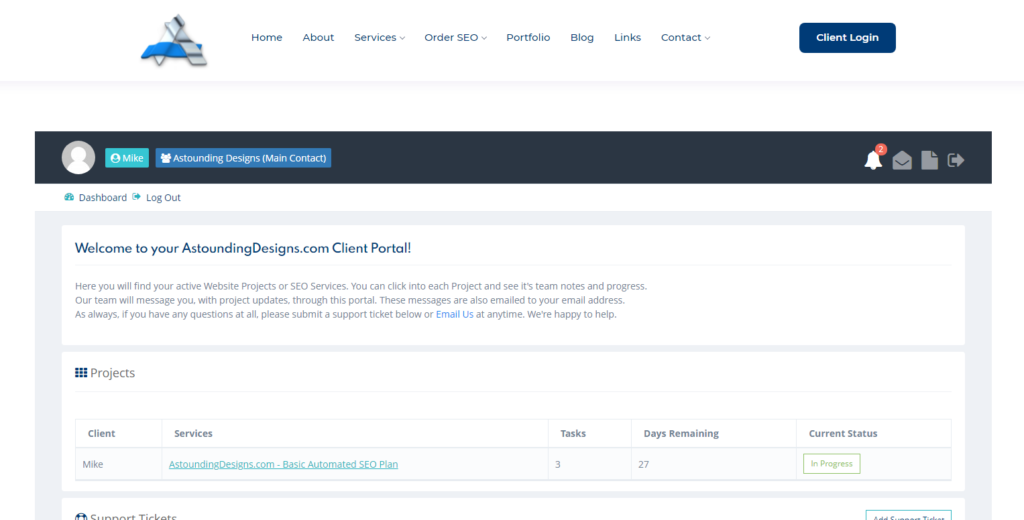 In the Client Portal, you can monitor your campaigns, projects, services and more. Within each project, track our team's progress, send a message, upload files and more. You can also see the total completed percentage of your project, in real time, from our internal system.
As you look through your Client Portal, if you have any questions at all, please reach out to us via Live Chat, Support Ticket or Email Us for help!
---
Tags:
astounding designs
,
astoundingdesigns client portal
,
automated seo plans
,
business web design company
,
business website design
,
client portal
,
clients
,
web design company
,
web design company atlanta
,
web design company providence
,
web design company ri
,
website design